Southern Metal Detectors
and Collectibles
4759 North Springs Road NW
Kennesaw, Georgia  30144
Phone/Fax       770-517-0427
email:
TEKNETICS METAL DETECTORS - Scroll down to see all models
TEKNETICS T2 METAL DETECTOR
Retail Price $1049.00 Our Price $849.00
LIMITED TIME SPECIAL ONLY $499
CALL FOR AVAILABILLITY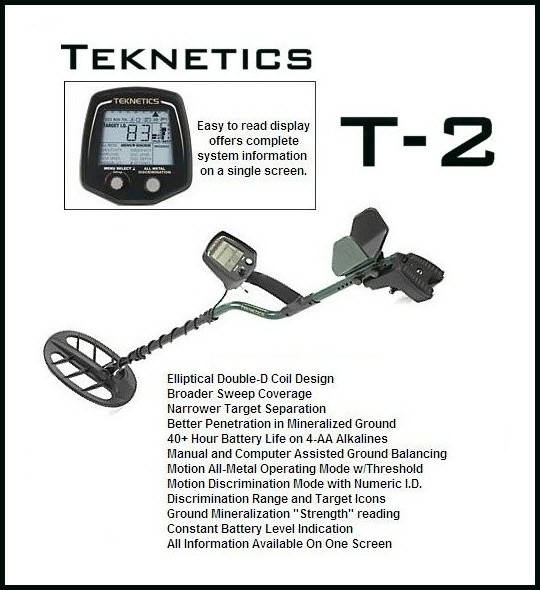 Teknetics T2 Metal Detector
A well-balanced, responsive and easy-to-use metal detector with an ergonomic design for hand, wrist and arm comfort. Excellent target separation with crisp, smooth target feedback. Display features numeric target identification and ground mineralization scale which narrows prospector's search for paystreaks and gives better response to deep targets. It also features a message center to assist with ground cancellation and gives target depth display in Pin Point Mode. Greater sensitivity in highly mineralized soils. Intuitive menu-based programming system. Trigger-activated target pinpoint and ground cancellation. Squelch-Tek® electromagnetic interference reduction.

Teknetics T2 Metal Detector
Black with 11"DD & 5" DD
CALL FOR SPECIAL PRICING
Free Shipping


Teknetics Gold Nugget Detector
Universal Functionality
-- Relics
-- Jewelry
-- Coins
-- Gold Prospecting
Ground Balance all the way to salt
V-BreakTM: Industry's First Variable Breakpoint tone discrimination system
Computerized Ground GrabTM& Manual Ground Balance
V.C.O. Audio in All Metal & Discrimination Mode
Independent control over Treshold & Gain
Continuous Ground Condition Readouts
Ground Phase value indicates type of mineralization
Waterproof 11-Inch Open Frame Bi-Axial Search Coil
Fe3O4 graphic indicates amount of mineralization
Static Pinpoint
Ultra-Lightweight (2.8 lbs)
Teknetics Gold Nugget Detector w/ 11" Bi-Axial Coil
CALL FOR SPECIAL PRICING

Teknetics Accessories
TM201 TEKNETICS T2 5" DD COIL $139.00
TM201.1 15" COIL FOR T2 299.00
TM202 5" DD ALPHA, DELTA, GAMMA, OMEGA, G2 COIL $159.00 5COIL-TEK SCREW IN CONNECTOR
TM203 11" DD COIL ALPHA, DELTA, GAMMA, OMEGA, G2 $199.00 11COIL-TEK SCREW IN CONNECTOR
TM204 8" TEK DELTA, GAMMA, OMEGA SCREW IN CONNECTOR $119.00 8COIL-7TEK
TM205 10" ELLIP. DELTA, GAMMA, OMEGA SCREW IN CONNECTOR $179.00
TM206 10" DD ELLIPTICAL COIL DELTA/GAMMA/OMEGA/G2 $179.00
TM24 LOOP COVER 7 1/4" $14.95
TM25 LOOP COVER 10" $19.95
TM26 LOOP COVER 8" SOLID $14.95
TM29 EXT CORD/BOUNTY-TEK 4' $19.95
TM35 LOOP COVER/8"THIN OPEN SPIDER $19.99
TM36 TEK T2 REPLACEMENT COIL $199.00
TM37 8" NEW STYLE STEPPED COIL COVER 11.40
TM49 NYLON CARRY BAG TEKNETICS 19.50
TM52 BOUNTY HUNTER POUCH WITH GUY $14.95
TM54 TEKNETICS HEADPHONE $39.99
TM55 NEW STYLE BOUNTY HUNTER POUCH WITH BULLSEYE
TM81 RAIN COVER TEK 2 PIECE $19.95
TM82 TEKNETICS ENVIRO COVER (NOT T2) $14.95
TM85 TEKNETICS GOLDPICK $45.00
TM910 TEK PINPOINTER $59.95
TM92 TEK T-SHIRT 10.00